Thursday, October 27, 2005
---
surprise!!
i thought i'd jump in for some last minute self promotion.
this weekend:
friday, one hour SPOoOoOoOKY DJ set on FBi from midday.
friday night, opulent launch at the mandarin club feat qua, mountains in the sky and chasm. and me. and evet and will.
sunday afternoon. vice halloween party at the abercrombie feat some bands. and me.
WOAH!
Friday, October 14, 2005
---
MURDER
i'm not saying life is perfect, but when jon rolls over to the record store with two cubans and some wild turkey, it's pretty damn close.
this blog is gonna die real soon. new things coming soon.
stay close.
Monday, September 19, 2005
---
I DID IT TODAY
MANITOBA i've lived on a dirt road all my life
RED RIDERS i think you're blind
DEAD FRENCHMEN tokyo
THE DEVASTATIONS sex & mayhem
ROLL DEEP the avenue
LOW DEEP get set
THE HERD we can't hear you
MACHINE TRANSLATIONS makers i
DEVENDRA BANHART chinese children
KES in the ditch
MOUNT EERIE the moan
WHY? gemini (birthday song)
THE ZILLIONS don't waste your tears on me
NINJA HIGH SCHOOL jam band death cult
THE DODGEMS lord lucan is missing (OLLO remix)
TOM VEK cc you set the fire in me
CRAZY MAD FUNKY DO MORROW (FORM DIPLO) piddle le he he
FELT (SLUG + MURS) employees of the year
THE HERD apocalypta
GIANT PANDA super fly
SIGUR ROS soelipur
PONY UP! shut up and kiss me
BLACK DICE smiling off
--
this week catch me DJing at The Mandarin Club for Purplene's final show ever on Saturday night, and then at Shithouse at Spectrum on Sunday.
Thursday, September 15, 2005
---
things that happened besides bowling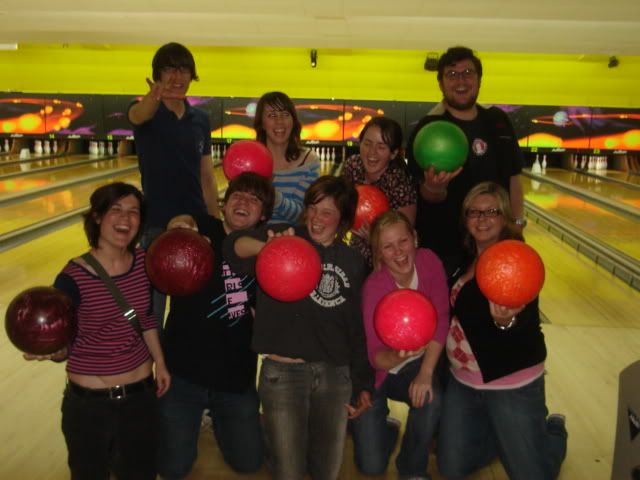 - my artwork has been used for a cd,
FBi's Kill Your Idols
compilation. The CD chock full of local rock, electro, indie etc. My picks are the tracks by Snap! Crakk! and Dappled Cities Fly. I did the artwork in minutes on scrap paper. Check it out, it's crap!
- friday night there's gonna be an
SMH
photo shoot at mandarin club. they're doing a story on great places to party in sydney.
Dear Nora
is playing, plus
Holidays On Ice
. It's eight bucks if you wanna see the bands, but if you come afterwards let me know and i'll let you in for free. I want the dancefloor packed for the photo shoot!! PACKED LIKE HAMS!!
- i found an
arcade defender
the other day! it's handheld and broken. I don't know what's broken exactly, maybe the battery compartment. can anybody fix this? let me know asap!!
- come together was fun. thanks to all who came by the
popfrenzy stall
. thanks even more to everyone who worked in the
popfrenzy stall
. and lots of love to everyone who danced to my set at the end of the night. that was awesome.
IT'S TIME TO GET THAI FOOD.
Tuesday, September 13, 2005
---
balls to the wall
Monday, September 12, 2005
---
this week vs last week
here's the show i just did:

ISLANDS flesh
THE RHOMBUS lifeguard
KING GEEDORAH fazers
THE DODGEMS lord lucan is still missing (OLLO remix)
CASIOTONE FOR THE PAINFULLY ALONE toby, take a bow
PRINCESS ONE POINT FIVE inadequate response
THE ROBOT ATE ME tonight
BOARDS OF CANADA chromakey dreamcoat
ALIAS & EHREN netting applause
DECODER RING serac
DECODER RING VS SPOD born 2 luv (alsace y'ass lorraine)
NEED NEW BODY brite th' day
JAYLIB champion sound
NEUTRAL MILK HOTEL king of carrot flowers part one
NEUTRAL MILK HOTEL king of carrot flowers parts two & three
SCISSORS FOR SPARROW top of the hill, bottom of the valley... uh!!
KES in the ditch
AKRON/FAMILY before and again
MOUNTAINS IN THE SKY cells divide
BEAT HAPPENING foggy eyes
THE FREE DESIGN an elegy (KID KOALA and DYNOMITE D remix)
ROLL DEEP the avenue
LALI PUNA small things (SIXTOO remix)
RED RIDERS I think you're blind
THE DEVASTATIONS sex & mayhem
IRON AND WINE/CALEXICO burn that broken bed
MY PAL FOOT FOOT here is very
BOARDS OF CANADA slow this bird down

versus the playlist from last weeks show:

FILE TOTALLY DELETED!!

(i don't know where it went. it was a good show too!)

Tuesday, September 06, 2005
---
madame levina
to the cretin who stole my beck hoodie on sunday night.
i see a dark future for you indeed.
i see you arriving home to an empty house, yet all the lights are left on.
i see you walking into the kitchen, to find a cake. a cake three times more delicious than any pastry you've seen in your life thus far. it probably belongs to one of your housemates, but what do you care? this cake looks amazing! you must eat it immediately!
you head to the drawers, and reach for a knife, only to find not cutlery, but cold wet spaghetti. ordinarily this would make you scream in terror, but your mind can only think of the cake that you must consume as soon as possible. knifeless, you lift the cake up in your hands and start chomping at it furiously. six bites in and you realize it doesn't actually taste like cake. you swallow your last mouthful and glance down at the baked good and see it filled not with flour and eggs, instead beans and cous cous!!
slamming the cake on the floor, your stomach grumbles really heavy. you must relieve yourself. you run to the bathroom, do your business and reach for the toilet paper. pulling a line of the 3 ply tissue, you try to rip, but it isn't tearing as easily as usual. the toilet paper isn't perforated, which freaks you out immensely.
reluctantly, you make do with the solid line of loo roll and stand to wash your hands. you turn the cold tap on, and plunge your hands in. you wail as the water burns your hands. someone has swapped the cold and hot taps over. you turn on the hot tap and plunge your hands in. you wail as the water burns your hands again. both your taps are hot.
clasping your burnt fingers in a damp hand towel, you walk towards the door and turn the handle, however, it doesn't turn. you locked it, and your burnt stubbly fingers cannot turn the lock.
you groan, lower than you ever have before. the groan is in such a low frequency that it causes all the windows and mirrors in the bathroom to shatter. pieces of glass fly through the room and your poor, weak body.
you cry for help, but nobody hears you. you cry louder and louder. so loud that all the tiles in the bathroom shatter. fragments of broken ceramic fly through the room and your already sliced up body.
your phone rings. you answer it. it's your lover. you ask for help, trying to explain your situation, but they'll have none of it. you've been a terrible lover. they're leaving you, and they want all their stuff back. they hang up, leaving you with tears screaming down your face. also, blood.
then, for no reason, you burst into flames.
--
at frigid on sunday night, someone stole my beck hoodie.
i bought it at his hordern pavillion show in 2002, and pretty much
wore
it
everywhere
.
at least i didn't lose my records or laptop, but still, i loved that hoodie!
RIP, sweet prince.